From isolation
to contemplation
Almut Grüntuch-Ernst
Photos by Robert Rieger & Patricia Parinejad
Architect Almut Grüntuch-Ernst on mindfully transforming a Berlin-based prison into a hotel whose spaces now offer respite.
Wilmina offers three new spaces at one unique location. On Kantstrasse 79 in Berlin Charlottenburg, a listed ensemble consisting of a former courthouse and a women's prison was transformed, expanded and reprogrammed by Grüntuch Ernst Architekten.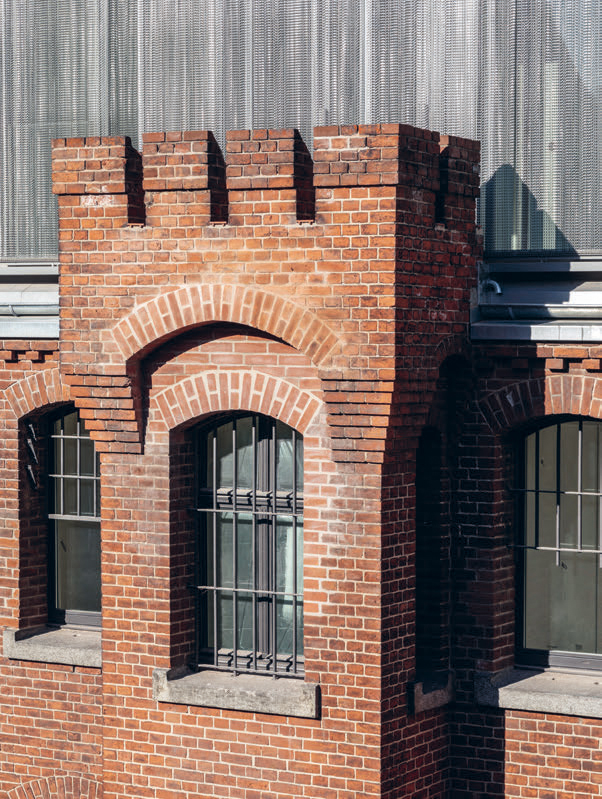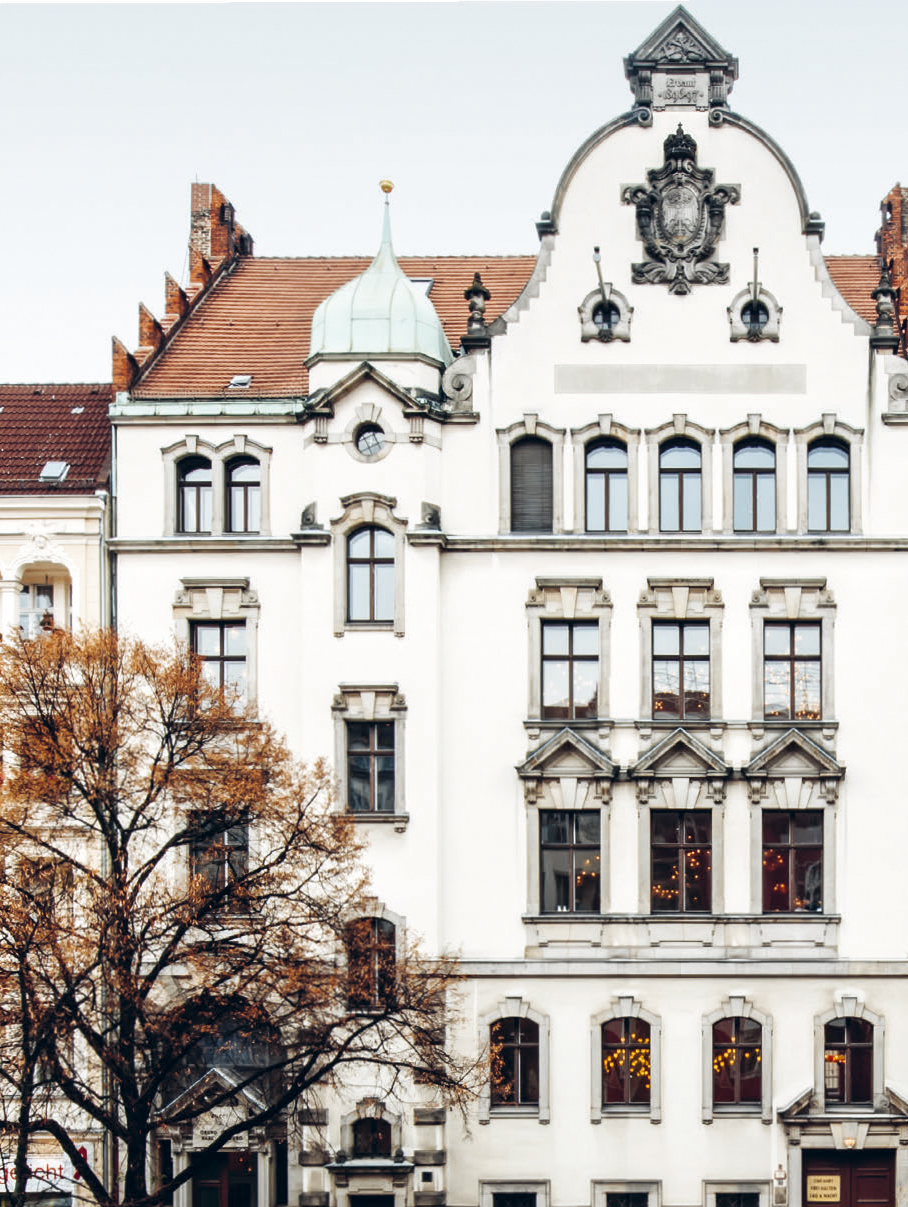 1
In 1896 the criminal court and the associated prison
were built as free-standing structures by the
architects Adolf Bürckner and Eduard Fürstenau.
The front building was used as a lay
judge's court with four departments.
Behind a historical nineteenth-­century building on a busy West Berlin street is a hidden oasis—a concealed ensemble of brick buildings punctuated by verdant courtyards. At night, from glassed-in ground-floor spaces, points of light coming from hanging lamps look almost like stars. By day, climbing plants and blooming gardens provide a lush green backdrop.
This is the Wilmina, a new 44-unit hotel in the German capital, and perhaps one of the city's most unusual places to stay. New, but not new: these buildings have a special history. Built in 1896, the streetside structure was long a courthouse; now it's a multi-use venue called the Amtsalon, whose many rooms host art fairs, film screenings, literature readings, events like the European Month of Photography exhibition and ­private conferences. The back buildings' story is even more dramatic.
For nearly a century, the property served as a prison. Early inmates were normal criminals; later, women prisoners were confined there for resisting National Socialism during the rise of Germany's Third Reich and during World War II. After 1946 the prison continued to hold women and was also used for juvenile detention. In 1985 the buildings were decommissioned and used for storage (or occasionally as a location for films like the Academy Award-winning The Reader), until architects Almut Grüntuch-Ernst and Armand Grüntuch (together Grüntuch ­Ernst Architects) began carefully and mindfully renovating it, starting in the early 2010s.
Named in part for the Wilhelmine historical era in which the buildings were originally constructed, Wilmina opened its doors to the public in April 2022, and visitors have peeled back the layers of the structure's new incarnation ever since. Complexities are rife in the site's many stories, which is reflected in both architecture and atmosphere. nomad met Almut Grüntuch-Ernst to talk about how the architects—and now, hotel owners—transformed the building from a zone of isolation and punishment into a place of contemplation, peace and care.
Hidden, yet
in the heart
of Berlin.
2
Hotel Wilmina, a hidden retreat, offering
highest comfort and serenity amidst
the hustle and bustle of the city.
Kimberly Bradley
Your firm has often worked with historically charged spaces in Berlin, overlaying sometimes negative histories with new stories—an example being the Jewish Girls' School in the city centre. Considering Berlin's fraught history, such transformations might not be so unusual, but where did the idea to create a hotel from a historical women's prison come from? It's quite unconventional to make a space this difficult into a hospitality property.
Almut Grüntuch-Ernst
We often accompany investors early; they ask us to come along when they're considering a property. The investor for this property, however, was convinced it wouldn't work. The prison was in the middle of the block, the cells very small, and so on. But we had the feeling that this place had something very special. We explained this to him, and we got deeper into the discussions, then he told us his bank thought it was interesting and whether we wanted to talk to the bank! We did, we received financing, and then we had to deliver. This building is an individual listed monument, and this was one of the first areas of the city where heritage protection was introduced, commemorating its difficult history. It's also a time track in the city. But we didn't stop doing our main jobs—we're architects on many other projects, and I'm also a professor at the Technical University in Braunschweig.
-
Is this why it took nearly a decade to transform the prison into a hotel? 
Almut Grüntuch-Ernst
Yes. But we could take our time in finding out what to do with the existing materials, and we kept a certain openness in deciding how to transform these difficult spaces. We were often surprised. We discovered that while the cells were, of course, separated spatially, they were not acoustically separated at all, so that if someone coughed upstairs, everyone could hear it. This meant that as architects we had to do much more than usual—soundproofing alongside fireproofing. Many such things came together.
We removed a lot of material. We connected some of the single cells to each other to make larger guest rooms. There was, of course, no lobby in the prison. We had to take out a floor plate to create a high and welcoming space as the entrance to the ­hotel building itself. And in the guest rooms, some of which were cells, we took out the bricks to extend the windows downward—some people think we shortened the prison bars, but that's not what we did. From these old stones and bricks, we created a new building that connects the bar and restaurant, so from the garden, you don't see that it's something new. It's woven into the old buildings.
-
The rooms are incredibly light and airy, with white and beige interiors and quite minimal furnishings, almost monastic and very peaceful; from the smallest ones, with bedrooms that were once single cells, to the large penthouse suites built atop the cell block in all glass. What was it like here when you first encountered it?
Almut Grüntuch-Ernst
Even if you know the history of the area, it's not a simple place. In the cells you couldn't stretch your arms out, and you couldn't look out. I learned that up to three women were held in each of these cells; it was unbelievably densely populated. The building is tucked away inside a housing block, so it had been inaccessible for decades. It was forgotten; not even the people from the immediate neighbourhood knew about it. We per­cei­ved this ambivalence when we visited the property: on the one hand, there was a feeling of trepidation because the building's past prison use was still clearly legible, while on the ­other, the plot also had something enchanted, hidden, almost fairytale-like about it. The courtyard was completely overgrown and very quiet—the only thing you could hear was birds chirping. It was a place of silence and solitude just beyond bustling Kantstrasse, and it had an emotional power that we wanted to uncover.
3
The rooms are light-flooded with a calming
aesthetic and natural, high-quality materials.
Enjoy the luxurious comfort of natural materials.
After a good night's sleep, be ready to explore
the Wilmina and the city.
Already Customer? Please login.