WE NEED
A NEW
BUILDING
CULTURE

Pia Maier Schriever
Photos by Marzena Skubatz
Our present social and economic model is challenged by crisis after crisis of our age. At the same time, the inadequacy of established practices for coming to terms with the present and shaping the future is becoming grimly apparent. The EU Commission under Ursula von der Leyen thus seeks to use the New European Bauhaus (NEB) initiative, launched in January 2021, as impetus for a transdisciplinary process which, informed by the values of sustainability, inclusion and aesthetics, will usher in a fundamental transformation of the way we live, work and consume towards a more inclusive, more sustainable and more liveable world. The partnership of equals, spanning design, art and architecture, science and technology, research and development, and business and society, springs from the awareness that the major challenges of our present age can no longer be solved by technological innovations alone, but are immanently cultural and social projects that call for fruitful cooperation between widely diverse parts of society.
Architect Pia Maier Schriever is a member of the high-level round table, an interdisciplinary advisory body furnishing concrete visions to the New European Bauhaus (NEB) initiative of the European Commission. Other members include architects Shigeru Ban and Bjarke Ingels; climate researcher Hans Joachim Schellnhuber; artist Olafur Eliasson; Thiëmo Heilbron, biologist, ecologist and founding director of the social enterprise, Fawaka Entrepreneurship School; Gina Gylver, activist and board member of Young Friends of the Earth Norway; Francesca Bria, president and chair of the Italian National Innovation Fund CDP Venture Capital–Fondo Nazionale Innovazione; and Sheela Patel, grassroots activist and co-founder of SDI Slum /Shack Dwellers International. The advisory body has a total of nine women and nine men.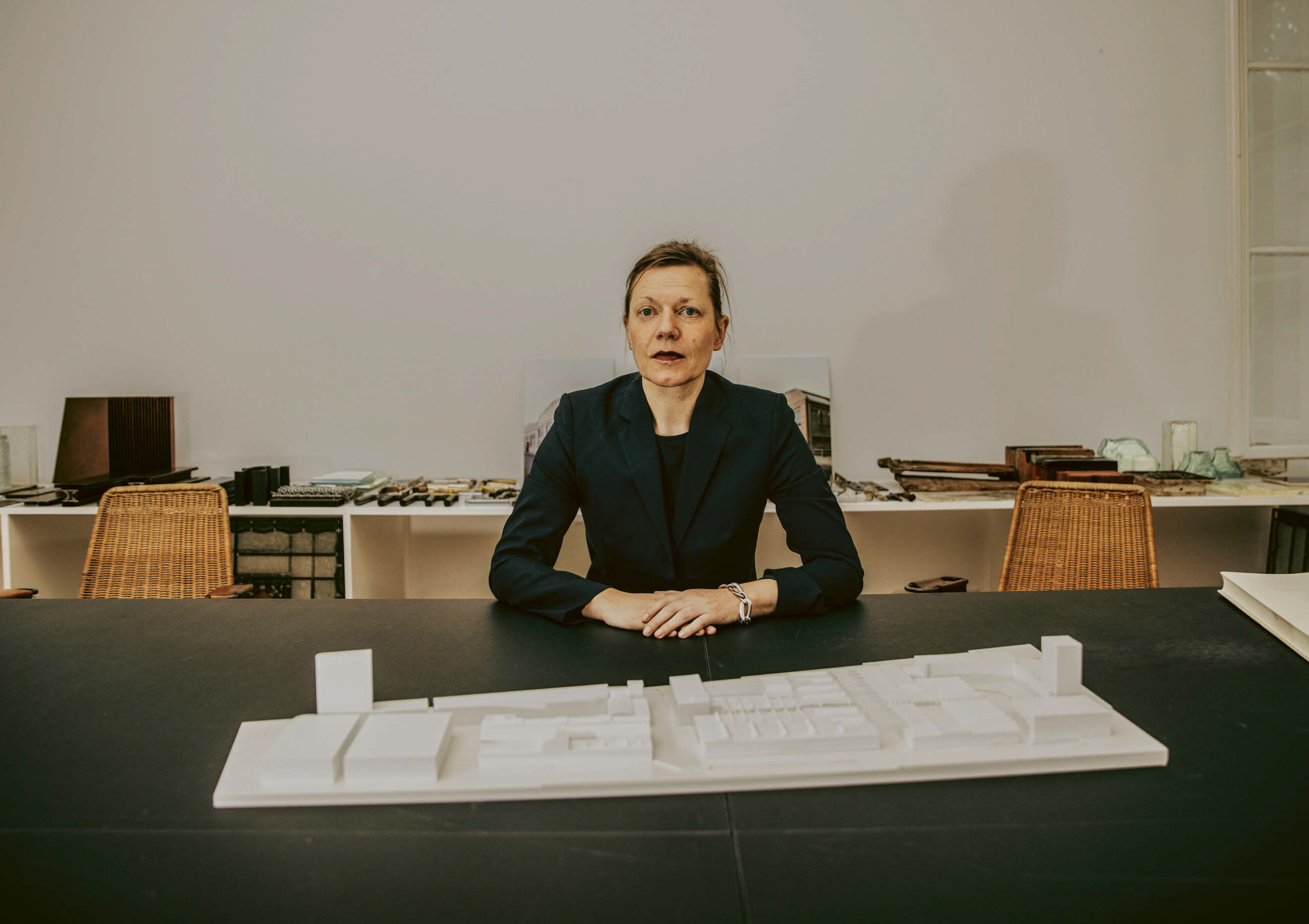 I talked to Pia Maier Schriever about the NEB's visions and their feasibility, about her personal approach to linking our cultural heritage with climate protection, and about a new perception of aesthetics and typologies for the twenty-first century. Schriever constantly examines how we will seek to understand the concept of city in the future, how we can usefully connect past and future, what urban space should feel like and how it should change, what it can fulfil, and how this future can be shaped proactively. As an architect, the tools at her disposal for designing and developing urban space comprise the shaping and modelling of space, proportions, selection and combination of suitable materials and the use of light. But first and foremost, a crucial issue for her concerns the impact on us and the atmosphere that is created. How are our senses touched? How does it make us feel?
Pia, you're a member of the European Commission's high-level round table, part of the think-and-do tank that is New Euro­pean Bauhaus (NEB). As thinkers and practitioners from a wide range of fields, your task is to inspire the NEB and act as ambassadors for the community, and you even provide personal consulting services to Ursula von der Leyen. But what is your own personal message?
P
MS
The issue concerns architecture and the need to awaken awareness of our built environment. In my view the essential factor is our cultural heritage and our need to ­address it and bring it into the twenty-first century. The fields in which I operate are largely concerned with the culture of building and the associated debate about quality. How do we want to live in the future, and how can we redefine our built environment and our living environment? This is a debate that impacts on us all. The NEB can be perceived as a macrosocial transformation which has long been going on around us, and which has now been presen­ted in political terms by Ursula von der Leyen and the European Commission. The initiative will enable us to significantly advance that transformation.
-
-
-
-
You have worked with historical buildings for over twenty years, decoding and reinterpreting them with the aim of making them fit for the future from a modern, contemporary perspective. What concrete form does this process take?
P
MS
The first step is to identify what is there, to engage with it and, ultimately, to filter it. What aspects are integral to identity? What are the main temporal layers or materials? The spatial dimensions and measurements, from small to large, likewise play a role. So the basic principle is one of identification and of peeling back layers. Perhaps certain things have to be uncovered to enable the underlying substance of the building to be transformed by adding new layers or working with new materials and new architectural forms, in order to interweave the past and the future. I think this blend points the way forward, continuing the culture of building or the cultural heri­tage, bringing it out of the realm of history and into the twenty-first century and developing contemporary ideas and solutions that exemplify it.
-
-
-
-
You're currently working on a city planning project to bring an industrial quarter in the German town of Göppingen, over a century old, into the twenty-first century. How did you tackle that brief in order to blend and open up the various areas?
P
MS
The area in question was historically a industrial district, but it no longer works in its original form and therefore needs to be broken up into smaller areas. At the same time, it is the visible expression of 100 years of architectural and industrial history. There are naturally elements of historical value, like the cast-iron supports and the old foundry hall, and it is all heri­tage-protected. Now our work is to uncover certain areas and redraw their boundaries as smaller lots. The interesting aspect is that it is located in the heart of the town, so our aim is to open it up to the town and to society while its function as an industrial centre continues on a smaller footprint. We are developing the area also for a digital transformation of industry (industry 4.0–Fourth Industrial Revo-lution)—so the site's industrial purpose will continue, but the type of use is changing as production processes become increasingly digitalised.
-
-
-
-
How can we imagine it in concrete terms?
P
MS
In our competition design, we sliced open the main industrial buildings and placed an axial pathway cutting through the district, with fully glassed-in intersections. This maximises transparency and affords access to the entire area. We redesigned two entrance gates to west and east, flanked by towers. At the same time, the brief was to preserve the historical identity of the district, so an attractive blend is created; the evenings are for cultural use, while daytime is the province of business and industry. The quality of the outdoor space is naturally a major ­consideration—new squares and piazzas, sensory aspects; materiality is likewise an issue which, I believe, will retain its importance for millennia to come, because we're human and we want things to appeal to our senses. I think that is still an important key to quality, particularly in our digital world.
-
-
-
-
Do we actually need a fundamentally new understanding of what public space is, how we aim to use it and whom it belongs to?
P
MS
Yes, we absolutely do. I think this is the heart of the matter, and thus also a societal theme. Where does public life take place? Where does social interaction now happen—that interaction that perhaps was once typically found in the market square? We had to learn that a classic banking district doesn't work at night when the streets are empty and dead. I believe outdoor and indoor space need to be interconnected to a far greater degree. We have to consciously design public space and consciously redefine urban space. What is private and what is public? Where does public life actually play out? A lot of it takes place on the Internet; we're all so busy with our smartphones and social media, but also our online meetings; all our working from home during the pandemic has certainly not diminished the significance of private and virtual spaces. Given this, we need a new definition of public space. This also influences the questions of how we aim to think of architecture or urban planning in the future, or how we need to treat rural areas to ensure they don't fall behind. We need debate and transformation across the whole of society. And we need this major development to move into the digital age, in which we already find ourselves.
Already Customer? Please login.