Mareen Burk If we don't do it, who will?
Photos by Christin Schwarzer & Mathieu Hemon
Mareen Burk's fashion swimwear label MYMARINI explores how much sustainability and corporate social responsibility a company can achieve (and afford).
When this interview was held, Mareen Burk was on the beach. Every year she and her partner and co-managing director, William Albright, spend a few months surfing in Portugal, extending their stay to make sure the long journey is worthwhile. For environmental reasons, the entrepreneur and surfing aficionado would never dream of taking a flight simply to spend a week by the sea. She founded the fashion swimwear label ­MYMARINI in 2013, out of frustration at the way her swimsuits and bikinis would stretch or fade after only a short time in wear—but also out of a desire to protect the oceans she loves so much. What started as a one-­woman show in her living-room has now grown into a company with 17 employees on the payroll, notching up international sales with its swimwear and loungewear while placing sustainability and corporate social responsibility firmly at centre stage.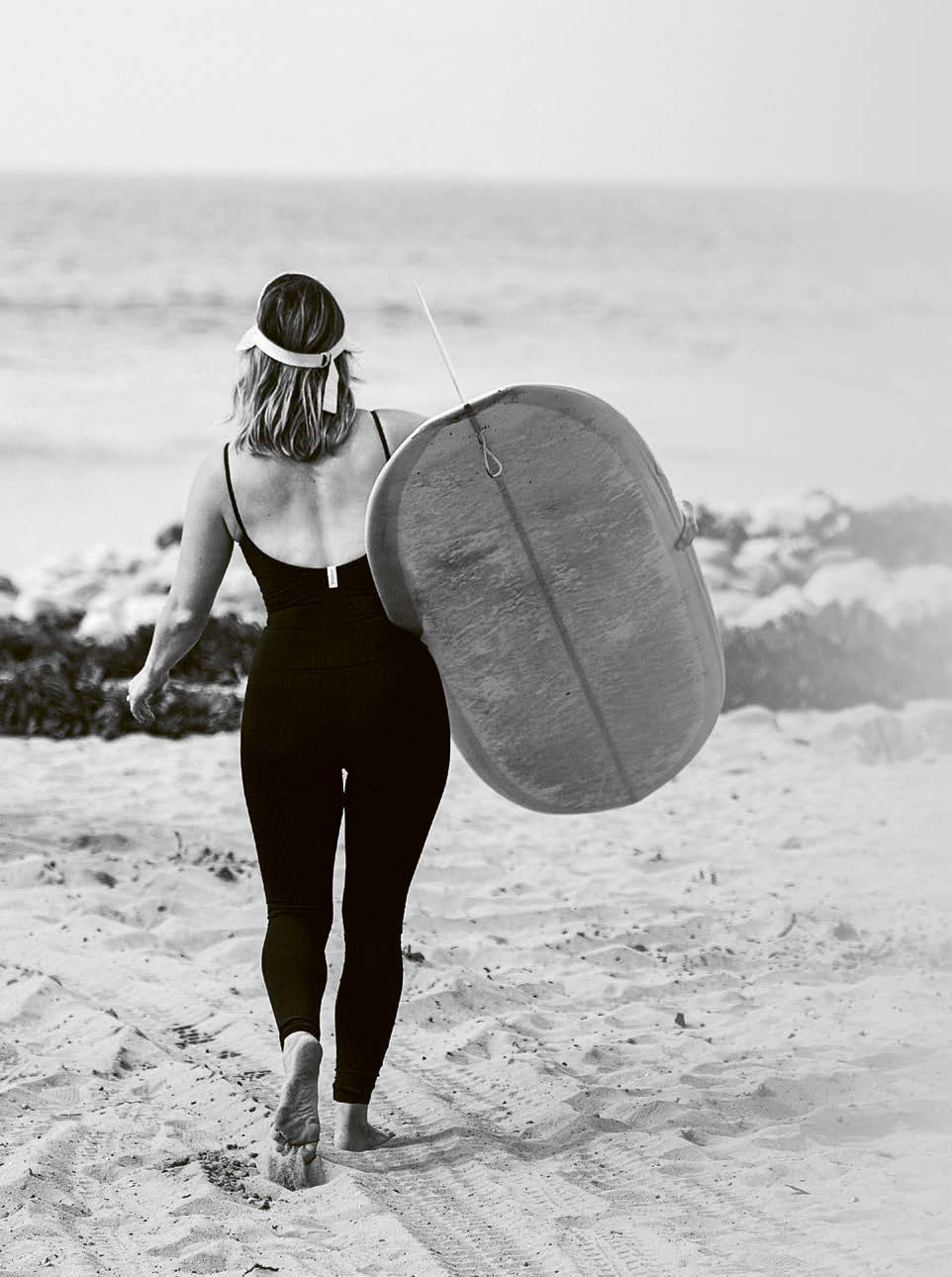 1
Mareen in Portugal wearing pieces from
her BLACK LINE Collection. In 2011,
Mareen Burk took her first surf lessons
in Peniche, the surfing paradise on the
Atlantic Ocean. Ever since, Portugal
has been her go-to place to surf and relax.
Long-lasting: MYMARINI swim-­
wear is ­designed to last longer
without fading or changing shape.
Has sustainability always been a central pillar at MYMARINI?
Mareen Burk
Yes, that was how I first launched the company. Everything we do always has to be as sustainable as possible, whatever it is. That wasn't really possible at the start; I was working on my own and had to pour my energies into selling product, getting the online store up and running, establishing a distribution network. Now there are 17 of us, with a sustainability officer as the most recent addition. It's her job to make sure our processes become even more sustainable.
-
What does that involve?
Mareen Burk
We're working on making our swimwear recyclable, and we're striving towards water-neutral production. Our aim is to market a product that has no environmental impact at all. Of course production operations always have some kind of impact on the environment, but we're working to counteract that by introdu­cing measures which neutralise any negative effects.
-
It's unusual for a company of your size to employ a full-time sustainability officer. What led you to take that decision?
Mareen Burk
I believe it's a question of pri­orities, and the decision we took was a conscious one. Maximising sales is not at the top of our list. It's no good to me if I earn lots of money but tomorrow's generation of children don't have a wonderful world to live in. Up to now our activities have been on a small scale, but if we never take that first step, nothing will happen at all. Our sustainability officer, Christin, joined us this year and has already initiated a whole lot of projects, some of them already completed.
-
What kind of projects are they?
Mareen Burk
Well, they fall into two major areas. One is recyclability. That means that products are made by recycling existing materials instead of using new resour­ces. Ideally, MYMARINI swimwear will be turned into new ­MYMARINI swimwear. The problem with swimwear is the elastane, which can't currently be separated from the polyamide yarn, so we'll need to switch to a different material blend over the long term. Then we need a recycling returns system to keep recyclable swimwear out of landfill. We need to make sure it comes back to us so that we can regenerate the nylon for reuse as swimwear fabric or other textiles. But we can't do that alone; we need the support of recycling companies that can separate out the materials with minimum loss and then use them to spin new yarns.
"As sustainable
as possible"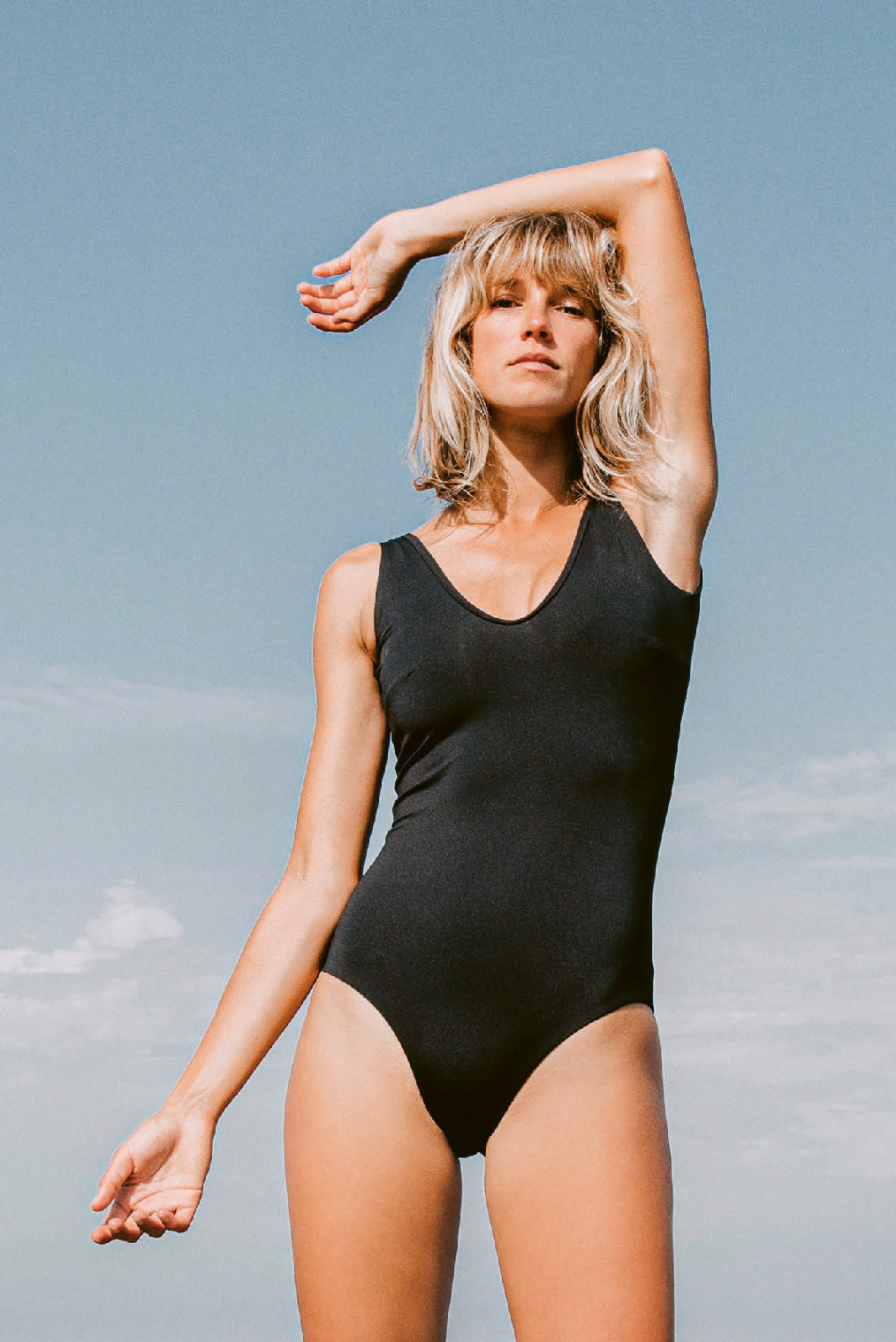 2
The timeless design of the CLASSIC Collection
is a part of the company's approach to creating
­sustainable products: the more timeless a piece,
the longer you can keep it.
For their swimwear, the company uses fabric
containing regenerated nylon from fishing-­nets
and other nylon wastes. The future goal is to
produce swimwear solely from fabric of old and
recycled MYMARINI swimwear.
Already Customer? Please login.