The renowned Institute for Lightweight Structures and Conceptual Design (ILEK) in Stuttgart was founded in 1964 by Frei Otto under the name of Institute for Lightweight Structures (IL). The institute and its founder achieved world­wide fame due to their outstanding research work and spectacular designs, including the German pavilion for the Expo 67 World's Fair in Montreal and the roofs of the 1972 Olympic Park sites in Munich. 
Under the leadership of Werner Sobek (from 1994 to 2020) and Lucio Blandini (since 2020), the institute has increasingly shifted its focus towards sustainability through new forms of design and materials. Today its activities range from textile, concrete and glass construction to ultra-lightweight systems integrating adaptive skins and structures.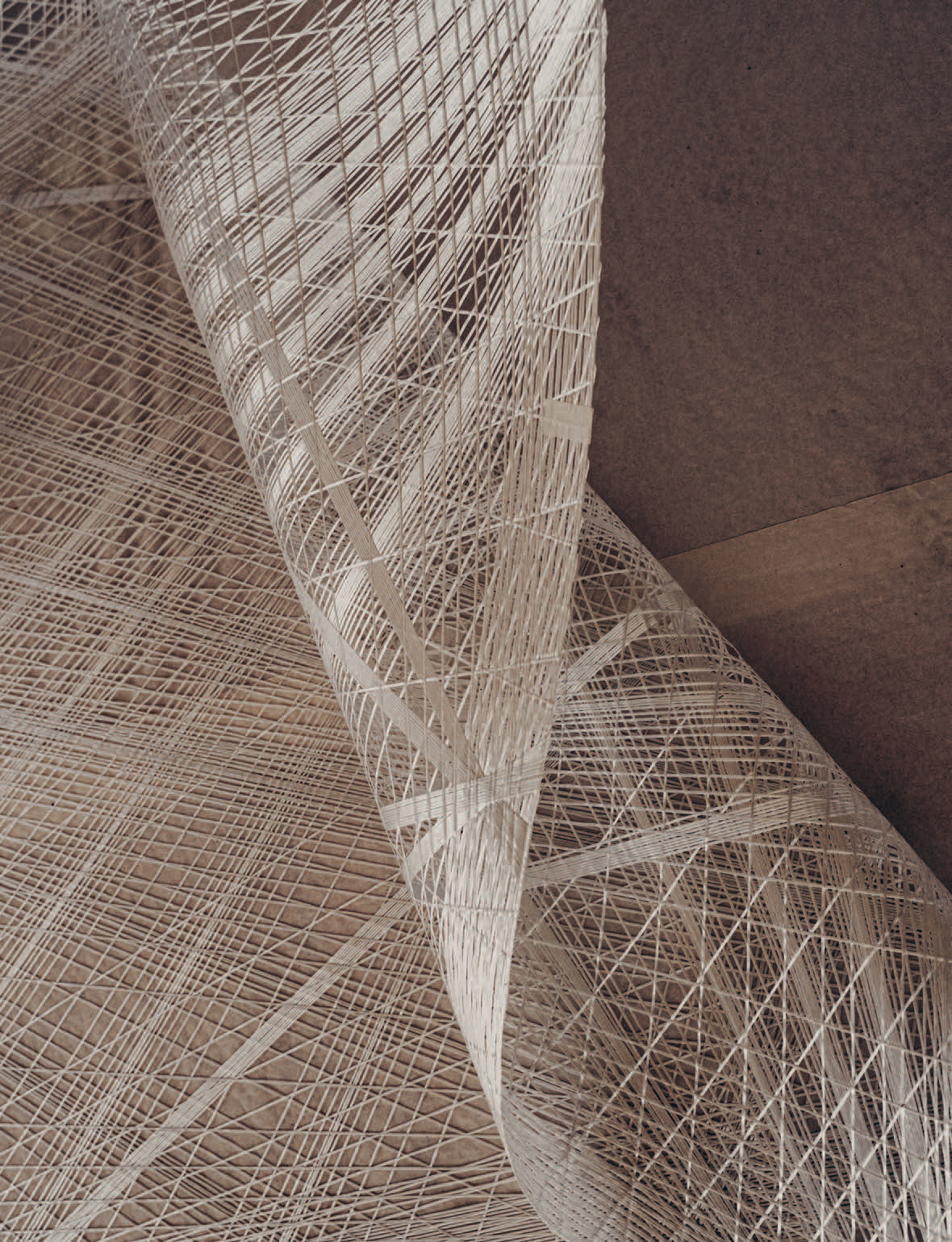 A synthesis of engineering and design: i-mesh facades comprise lightweight textile elements that are fully recyclable.
WE HAVE
TO KICK UP
A GEAR!
Let's suppose aliens landed on earth and happened to have roughly the same grasp of physics as we do. What would they pick out as the most sustainable and progressive building?
 L     
           B
The aliens would probably be on the look-out for a building constructed with the mini­mum of materials to a flexible and adaptable design, ideally self-sufficient in energy from renewable sources—and able to be returned to biological or technical cycles in full after an extremely useful life.
-
-
-
-
So they might choose a half-timbered building?
 L     
           B
… Well, we really need to stop restricting sustainability to a single typology, but yes—half-timbered houses can certainly be seen as sustainable in many respects. However, they usually lose points in areas such as energy efficiency, sound insulation, fireproofing, comfort and so on. Buildings with lifespans of several centuries influence our architectural culture and make a sustainable and enduring contribution to the shape of our built environment. The resources ploughed into these buildings remain in active use for an extremely long time; just think of the Pyramids, the Colosseum, the Pantheon and the medieval cathedrals that we still admire today. All these are sustainable historical buildings of immense cultural value. But we cannot and should not take these unique monumental buildings as a reference for our entire built environment. We need buildings with a very light ecological footprint that are both adaptable and long-lasting.
The volume of resources used to build them must always be appropriately proportionate to their planned useful life. The best way to achieve this is to pare back the resources needed to the absolute minimum and to extend the potential useful timeframe. This is lightweight construction in the best meaning of the term. 
-
-
-
-
So lightweight structures are your
main focus?
 L     
           B
Absolutely. Lightweight structures and systems as I described them are crucial for sustainable building in the twenty-first century. We need to think in dimensions, in time periods and in life cycles.
-
-
-
-
Does that mean if we end up demolishing buildings after only 30 years of use, we're doing it wrong?
  L     
           B
Well, it's certainly an ecological catastrophe. But unfortunately, this is a field where economic considerations are still the only ones that count. However, we can no longer afford those linear, knee-jerk ways of thinking. Lawmakers need to set out different framework conditions with our support. Substantial change will only be achieved when parameters have evolved in such a way that sustainability and cost-effectiveness are no longer mutually exclusive, but mutually imperative.
-
-
-
-
Your research examines ways of halving consumption of resources and materials. Will that be enough?
 L     
           B
The research carried out at ILEK has revealed important opportunities to minimise use of materials, but they will certainly not be enough on their own. We also have to ensure that extraction of materials from the earth's crust is minimised, and that as many mate­ri­als as possible are reused, recycled or continue in use. This is particularly vital for ephemeral architecture like exhibition stands, for example; these intrinsically temporary buildings could still be sustainable despite their extremely short lifespan. We have worked with some companies in this field that use and reuse the same profiles and elements over and over again in different ways, so that the design and the system as a whole change, but the individual elements largely remain the same. I would welcome more initiatives of this kind.
-
-
-
-
But wouldn't we need to use higher-quality materials, like wood instead of MDF?
 L     
           B
As a general principle, yes. The mindset behind making cheap products that soon end up on the scrap heap is all wrong. We also have to take a critical look at the idea of recycling, which has all too often simply been synonymous with downcycling—like construction waste that ends up as hardcore for highway construction. Huge quantities of valuable resources are lost forever like this. So the first thing we need to do is come up with possible ways of reusing them.
Already Customer? Please login.