Hermès Maison How do you set your home up for life?
Photos by matthias ziegler
Hermès Maison
Rue d'Anjou 12
75008 Paris
How do you set your home up for life?
As Artistic Directors of Hermès Maison,
Charlotte Macaux Perelman and Alexis Fabry are responsible
for design that transcends the boundaries of time. We met up with them in Paris.
One horse, two unusual riders: it might seem a little odd that in 2014, an architect and a book publisher were entrusted with overseeing the home furnishings range of one of the most renowned luxury brands in Paris. Architect Charlotte Macaux Perelman made her name in hotel and restaurant design, working for Philippe Starck, then later for David Rockwell and André Balazs after moving to the USA. In 2005 she launched her own company, Studio CMP, now based in Paris and New York. Alexis Fabry is an expert in Latin American photography and curator of various art exhibitions. He also founded Toluca Editions, publishing high-quality art books on the topics of photography, design and literature. No headhunter would have dreamed of proposing these two professionals from such different fields for the roles—and yet that's exactly what the top management at Hermès did. Steeped in tradition, the company has been owned by the family since 1837 and things are a little different there. Formerly a harness and saddle workshop, its story begins in Krefeld, Germany, to where the French Protestant ancestors of founder Thierry Hermès had once fled. Hermès became an apprentice there before moving to Paris and opening his first shop. Hermès is today a global player with 308 shops and 12,834 employees worldwide; last year, the company reported record profits of EUR 1.1 billion. All the more impressive given that Hermès is not like other listed companies that think only about quarterly profit maximisation. Rather, at Hermès longevity is the priority—a mentality to which both Perelman and Fabry are also committed. In the showroom of the Paris headquarters, they share insights into their perception of design and their company's philosophy. And slowly but surely, what once seemed odd suddenly becomes logical.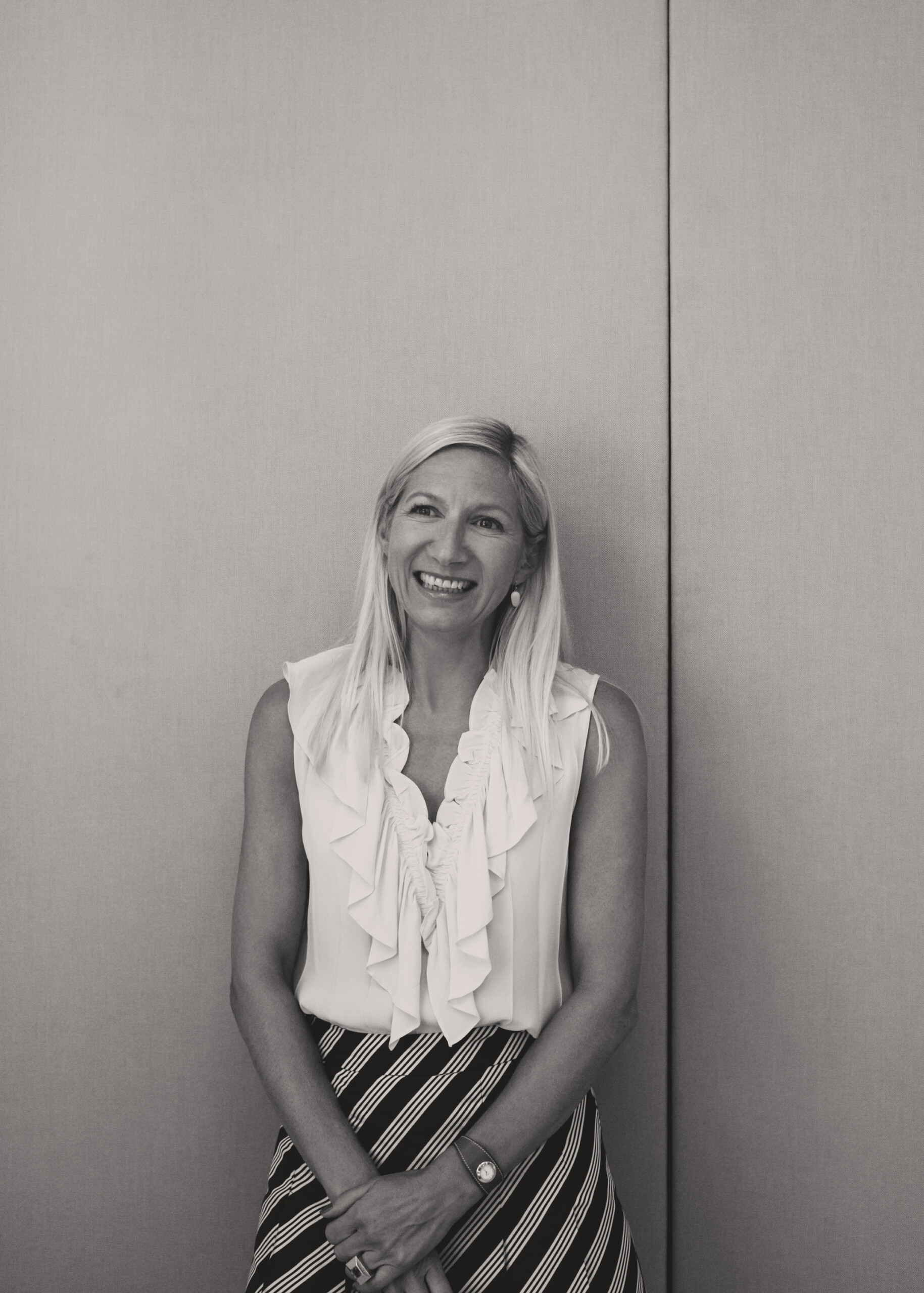 Discussion with 
Charlotte Marcaux Perelman &
Alexis Fabry
Let's start with a simple question: how did you
come to be chosen for such a coveted role?
CMP
We were initially invited to lunch a long way in advance by Pierre-Alexis Dumas, the Artistic Director of the whole company, and CEO Axel Dumas. Alexis and I both pondered for months over what it could possibly be about. I had previously worked privately for the Dumas family as an architect—outside Hermès—so initially thought this was probably just a new project.
AF
We were taken aback, to say the least. In my case, this role is anything but familiar and I would never have dreamed of taking it on without Charlotte by my side. I think it's our personal approach to our work that made them think of us: the way we do something, rather than what we actually do. The inner mindset that drives our primary activities. In my view this thinking outside the box, interweaving areas of creative expertise which might not appear to belong together, is one of the special strengths of the ­company.
And was there an immediate
yes! to celebrate?
CMP
No. We took a little time to think about it, and there was a second lunch. What ultimately made the decision easy for us was that Axel Dumas insisted we continue our own companies and work outside Hermès, rather than switch to Hermès full time. He regarded this as an advantage rather than a hindrance. And we agree.
Is your personal friendship a blessing or
a curse in your work?
AF
We've known each other since we were 19. In fact, we did have lengthy discussions about whether we would be risking our friendship and whether we could work together in this way. After three years, I can confidently report that we can! We still like to meet up privately just as often, and we even manage not to talk about Hermès when we do (laughs).
CMP
That was a promise we made to our friends and families! In fact, I've always experienced friendships at work as positive, because it means there is a basis of trust and understanding already in place, which can make many things easier.
How do you divide up the work?
AF
We don't. We're not designers; we're the curators of all Hermès Maison products. As such, we manage and guide the in-house design team or source external creatives for certain items together.
CMP
We go into the company on the same days, coordi­nating with the design studio about the main ranges they and we envisage. Through our other work, Alexis and I get to meet many artists, designers and architects, who inspire us and give us ideas for things that might be perfect for Hermès. Sometimes that may be only a very abstract idea or question, such as: what would a certain Hermès product look like without using leather? And then these people contribute their own ideas—this is how a design gradually evolves. There is no fixed sequence; instead, everything is the result of open, collective work.
The Maison collections at -Hermès are very heterogeneous and do not follow the general
routine of other interior designers, bringing out a new sofa, a new table
or a new dinner service every season. How do you design
the collections?
CMP
In this respect, we really do have great artistic freedom. The aim is to achieve a cohesive overall concept and, well, each product must have a certain inherent necessity and consistency. Of course, there are musts for every season, such as new blankets and new fabrics, but we don't always need new furniture. We tend to think in terms of individual pieces.
AF
There are two sides to Hermès design: on the one, the Protestant severity and formal rigour that is deeply rooted in the history of the company, such as the Kelly handbag. On the other, there's a playful, vibrant lightness, as is evident in the silk carré scarves. We position our work right in the middle of these two directions. Of course, wallpapers and textiles offer more colour and storytelling possibilities than furniture, which by its very nature is designed for a long useful life.
CMP
For example, we approached Barber & Osgerby to collaborate on the Aes coffee table because Alexis and I both regard the duo as two of the most interesting designers of our time. We therefore felt that they were exactly the right choice for bringing to life the simple, severe coffee table we were seeking for our current collection. Alexis had already met them through an art book project with Toluca Editions. The skill of their craftsmanship in handling bronze, a traditional material with a surface that appears almost like leather when waxed, is the perfect fit for the Hermès DNA—but goes far beyond it at the same time. It's transversal in the best sense of the word.
Leather and silk are at the heart of Hermès.
How compelled do you feel to use these materials?
AF
We play around with them. We can consciously choose to use lots of leather, or none at all. Or just a little. The rule is that there are no rules! As Artistic Director of Hermès, Pierre-Alexis Dumas always has the final say and approves every single item.
CMP
In the current Lien d'Hermès collection, for example, we're now returning to the company's roots: production of saddles and bridles. The Groom Attelé hanging accessory stand is made almost entirely of leather and is clearly a nod to the design of horse tack.
There are also clear allusions to S&M gear and low-priced
everyday products, such as the Pierre Charpin change trays, which are redolent of
Tupperware lids. Does Hermès have a sense of humour?
AF
I can't pretend to know much about the S&M scene (laughs), but Tupperware containers are undeniably beautiful design classics—though Pierre Charpin's interpretation is made of elegant Japanese lacquer and the finest calf leather. We greatly respected his skills as a colourist and knew that he had learned the relevant techniques in Japan. We asked him to create colourful lacquer items in combination with leather. It seems our use of the phrase sandwich technique gave him the idea. True genius, both very charpinesque and very right for Hermès. But plastic and Hermès is a definite no-go. That's where the fun stops! (laughs)
Are there any other materials that
are forbidden at Hermès on principle?
CMP
Hermès stands for craftsmanship and so we favour traditional materials, in which we of course have unique expertise as well as a network of exceptional ateliers. Plastic and other synthetic materials are intended for industrial production methods, not ours. I am not completely ruling them out for use in the future, but at the moment we cannot see it ­happening.
How do you decide which designs to pass on to your internal design studio and
which are entrusted to external creatives?
CMP
Intuition. When we opt for external involvement, these individuals are often architects, as they have a different concept of time. For example, we asked the Pritzker Prize winners Álvaro Siza and Rafael Moneo to design a stool and a chair respectively. Here, too, it was not their name or star status that attracted us, but the gesture that is inherent in their work. In the same way that Hermès never thinks in terms of fashions and trends, architects—unlike designers—work to a longer timeframe. We strive to create long-lasting design that lives beyond the moment, while at the same time being engrained in that instant.
AF
That's precisely the challenge: having a contemporary mindset on the one hand, but maintaining the right distance on the other—all while continuing to write history for the brand. It's an extre­mely subtle undertaking that cannot be reduced to a simple ­formula.
How do you imagine your creations in the homes of cust-omers? Do you think in terms of one look for cohesion within the overall -concept–Hermès throughout, from sofa and wallpaper to tableware?
CMP
Definitely not!
AF
Again, I would say we think in terms of individual pieces. Not least with the aim of appealing to as many customers as possible (smiles).
CMP
For me, a beautiful interior is about achieving harmony through eclecticism, which is also how I envisage our pieces in our customers' homes.
Is it your intention that a Hermès sofa,
which can easily cost EUR 50,000, is actually used for
a lifetime–and even passed down through the generations?
AF
We make our products to such a high quality that they should theoretically last for many decades.
CMP
However, it would be presumptuous for us, as designers, to say that a customer will still like the sofa in 50 years' time. In general, though, our work is always guided by the concept of sustainable design.

Jean-Michel Frank, who is regarded as the very first minimalist in the world
of interior design, commissioned -Hermès to make his leather furniture in the 20s and 30s.
In fact, right now we're sitting on a sofa he designed, which -Hermès has now
revived as a re-edition. Is he a source of inspiration for you?

AF
I tend to see his charisma and influence rather more outside Hermès. We are more inclined to draw on his later successor Réna Dumas, wife of former Presi­dent Jean-Louis Dumas, who designed some of the most iconic Hermès furniture—particularly her Pippa collection.
CMP
Her nomadic folding furniture in wood and leather is still very current—and the pieces have an innate harmony. To us, they are akin to the soul of Hermès Maison. One of the first things we did when we started here was to reintroduce these designs into the range, with a few new contemporary touches.
How often do you
change the interior of your own homes?
CMP
Rarely. I have a tendency to just add more. That runs in the family!
AF
Charlotte rebuilt and redesigned my apartment about ten years ago while she was still living in New York. She knows how to give rooms a timelessness that never fades. Aside from a few pieces of furniture from my youth, which I've now replaced with higher-quality items, I haven't changed a thing. I still really like my apartment.
Are you immune to trends?
CMP
I never choose furniture and accessories either for customers or for myself based on decorative trends or features—colour or shape, or whatever—but on their inherent qualities and their beauty. They may be modest, very simple things …
AF
… such as a basket from Andalusia. Of course there are designers who are extremely focused on the here and now in how they think and work—and who are loved again 20 years later as part of some retro trend for precisely that reason, because of those weaknesses. We're not interested in that approach. For example, I would never buy 70s furniture just because of the era it came from.
CMP
Plastic furniture was a natural response to a certain time. It can happen that I totally fall in love with a piece which is very much of its era. However, I would never buy furniture simply because of its nostalgic qualities, only if it has a beauty that transcends time and place.
AF
The great thing about furniture made from higher-­quality materials such as wood and leather is, I think, that it becomes better with age. The patina and those little scuffs and scratches are precisely what gives a piece character and makes it special. On plastic furniture, they are just plain ugly.
Madame, Monsieur,
thank you for talking to us.