David Einsiedler, CEO of PLY and Midgard
Photos by Matthias Ziegler
David Einsiedler, CEO of PLY and Midgard, has kissed a classic awake. His success demonstrates that the old slogan has lost none of its ­appeal: Midgard really focuses on flexible, modern light.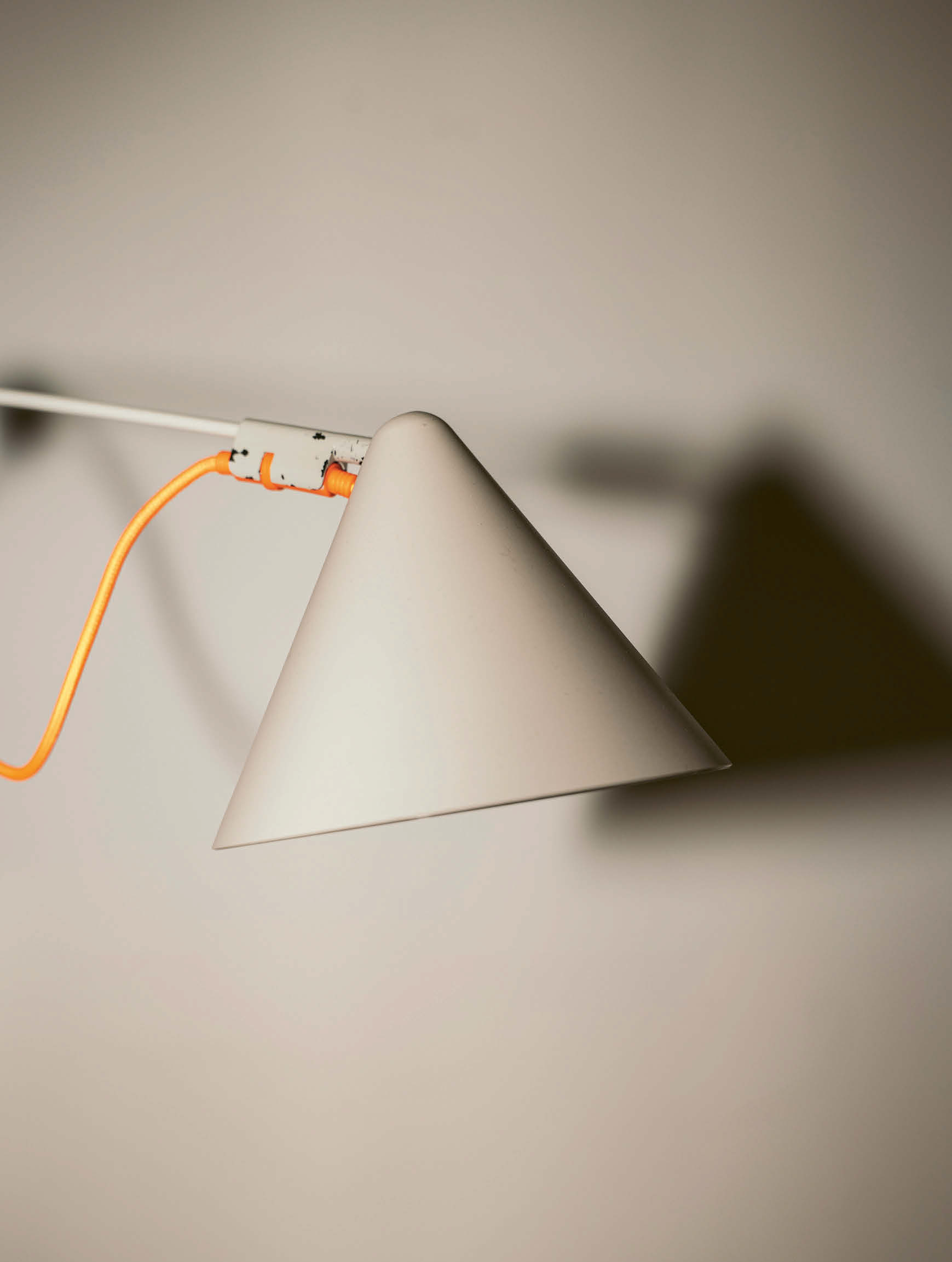 David Einsiedler and his wife, Joke Rasch, awakened traditional brand Midgard to new life. Its classic Bauhaus lamps have now been joined by Stefan Diez's new lamp design, AYNO, which shares their uncompromising aesthetics and sustainability.
David Einsiedler has grabbed his mobile phone and is now in the garden of his Hamburg office. This is where we work. Nice, isn't it? says the 44-year-old in a tone that smacks more of a statement than a question. Einsiedler is hands-on, a doer that rolls up his sleeves and gets on with the job, a true entrepreneur. He's also the CEO of PLY and Midgard. While PLY designs new worlds of work, Midgard is a classic brand in the lighting industry, now being ushered into the 21st cen­tury with zest and vigour by Joke Rasch and David ­Einsiedler with their partner, Kristin Seel.
Einsiedler, who trained as a printer, later studied marketing and communication and became a successful management consultant, has basically always been a fan of the lamps that were already lighting up the Bauhaus in Dessau in 1926. At the end of the 1990s Einsiedler snapped up all the Midgard lamps he could lay his hands on for his home workshop, sourcing them mainly from the Internet and at flea markets. He prized the supreme adjustability and uncompromising quality of the original pieces particularly highly.
Einsiedler's first visit to the Midgard factory was in 2003. He was travelling through the area and had discovered that the company still existed, but hesitated to make contact. I saw a relatively old man in the factory grounds. It must have been Wolfgang Fisch­er, son of the company founder, Curt Fischer. But I didn't have an appointment, so I didn't talk to anyone. It was not until 2010 that he returned for an official meeting with the heirs, Fischer's daughter and daughter-in-law. It wasn't a pretty sight. Everything was very desolate; the buildings were crumbling, and the production operations had retreated to a small corner while the rest of the premises were out of action. After Wolfgang Fischer's death in 2004, Midgard filed for bankruptcy in 2011—but at a time when Einsiedler and his wife had just committed their funds to setting up their own company, an interior design firm called PLY. Their idea of finding an investor for Midgard also came to nothing. We were able to persuade two investors to take a look at the site, but both decided to pass on it, recalls Einsiedler. They had probably been put off by the fear of having to shell out all their funds on renovating the buildings, which they were not prepared to do. In 2014 Einsiedler once again made contact, this time with a major customer on board. PLY had been commissioned to provide planning services for Geometry Global and wanted to use Midgard modular lamps. Einsiedler had the idea of making new products, knowing the machinery and tools were all still in place: Nobody would build machines like these today. An aluminium die-casting tool alone can cost upwards of EUR 30,000—and there were several at Midgard. The initial enquiry spread into months of discussion. It was clear the heirs were having trouble letting go.
Already Customer? Please login.